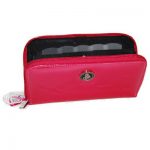 In the life, wallets are suitable to contain our money, coin, name card, ID card, credit card, passport, they are very easy to take out as their volume normally are small and useful for everyone.
Now the wallet in addition to the above function can also be decorations or when using the family photo.
Wallets are so important for our life, we provided personalized and fashion styles in different material and style for men wallet, women wallet, kids wallets. Just we are wallets manufacturer.
Leather wallets, PU leather wallets, durable fabric wallets, classic style, fashion style, shiny effect wallets, velcro wallet, passport wallets etc.
Wallets source manufacturer. Looking forward to discuss with us your any idea and need.